Original article Trend Micro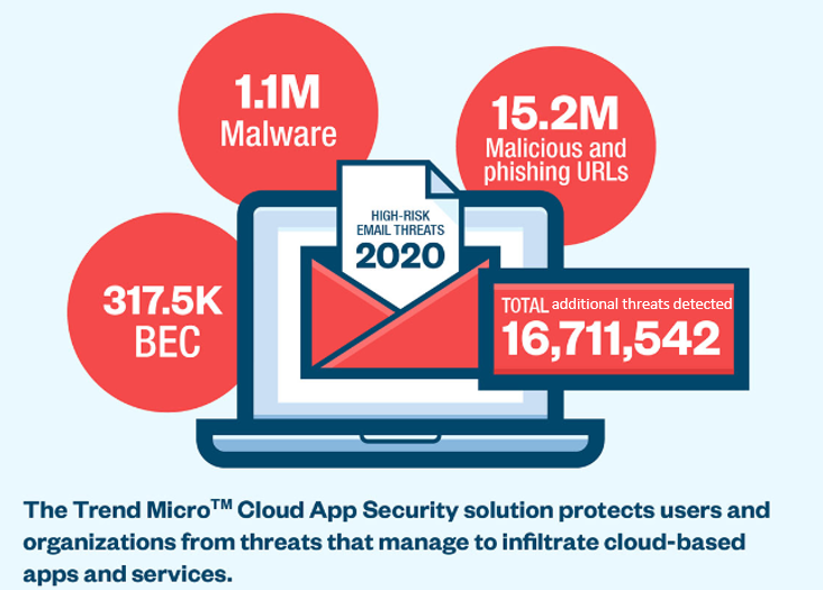 In the midst of the COVID-19 pandemics, millions of people are now working from home around the globe. Email has become more imperative as a tool to communicate with peers and clients remotely. Unfortunately, malicious hackers are evolving, too. In March, 2020, the FBI saw an uptick on pandemic-related scams and warned the public to be cautious of both fake Centers of Disease Control and Prevention (CDC) emails and phishing emails. In December, 2020, it warned of COVID-19 vaccine scams trying to convince people to share personal information and pay out of pocket to obtain the vaccine.
Trend Micro™ Cloud App Security™ is an API-based service protecting Microsoft® Office 365™, Google Workspace, Box, Dropbox, and Salesforce. Using multiple advanced threat protection techniques, it acts as a second layer of protection after emails and files have passed through Exchange Online and Gmail's built-in security.
In 2020, Trend Micro Cloud App Security caught 16.7 million high-risk email threats, in addition to those blocked by Exchange Online and Gmail Security. These threats include 1.1 million malware, 15.2 million phishing attempts, and 317,500 BEC attacks. Blocked threats also include 5.5 million attempted phishing thefts of user credentials and 179,000 ransomware attempts. Trend Micro Cloud App Security has a proven track record of protecting cloud email services. The original article shows actual detection data from customers for various environmental scenarios.
For example, it looks at an IT service provider with 10,000 E3 users (including Exchange Online protection), where Cloud App Security detected an additional 10,916 malware, 739,846 malicious or phishing URLs, and 4,387 BEC attacks. Given the average cost of a BEC attack of $75,000 and the potential losses and recovery costs for credential phishing and ransomware attacks, Trend Micro Cloud App Security pays for itself very quickly.
For organizations that choose to use a third-party email gateway to scan email before it is delivered to their cloud email environment, Cloud App Security is also beneficial because many of the most sophisticated and hard-to-detect threats still slip through. In addition, a gateway solution cannot detect internal email threats that may originate from compromised devices or accounts within Exchange Online or Gmail.
For Gmail customers, Trend Micro Cloud App Security can provide additional protection. For example, a telecommunications company with 12,500 users was able to block 32,115 high-risk threats with Cloud App Security in 2020.
Conclusion
Email gateways or built-in security for cloud email services are no longer enough to protect enterprises from email-based threats. Enterprises should consider a comprehensive, layered security solution. Trend Micro Cloud App Security, for example, complements built-in security features in email and collaboration platforms such as Microsoft Office 365 and Google Workspace.
The solution relies on unique technology to combat BEC attacks: Writing Style DNA is artificial intelligence (AI)-powered technology that can help detect email tactics that involve pretending to be another user. It uses AI to recognize a user's writing style based on previous emails and then compares it to suspected fakes.
Countering the trend of using fake, legitimate-looking login websites to trick email users, Cloud App Security uses a feature that combines AI and computer vision technology to detect and block attempts at credential phishing in real time. A login page's brand elements, login form and other website components are checked by this tool to determine if a page is legitimate.
The Trend Micro Cloud App Security Report 2020 provides more details on the types of threats that are blocked, as well as common email attacks analyzed by Trend Micro Research in 2020.